Wisconsin
7 Disappointing Thoughts Every Freshman's About to Have About Freakfest
It's no wonder UW is the reigning #1 Party School in the Nation in 2016 and 2017, (remember, bad polls are are fake news). we've got some solid evidence: There's the Mifflin St. Block Party, Badger game days, and just the basic weekend festivities that would feel like another school's homecoming. Thus, still-kind-of-highschoolers-freshmen come into their first year thinking every fest is going to be a banger. But not so fast, our little teen Badgers, it would behoove you to know that ever since 2006, when the city took over the "State Street Halloween Party," due to rioting and looting, and just a few minor stabbings, the Halloween-themed music fest just hasn't been the same. So just like their parents warned them about sex, we're going to get some disappointing thoughts they'll all have by Sunday out of the way early.
7.) It's going to look like this:
Sorry bud, that was 2006. It's going to look more like this: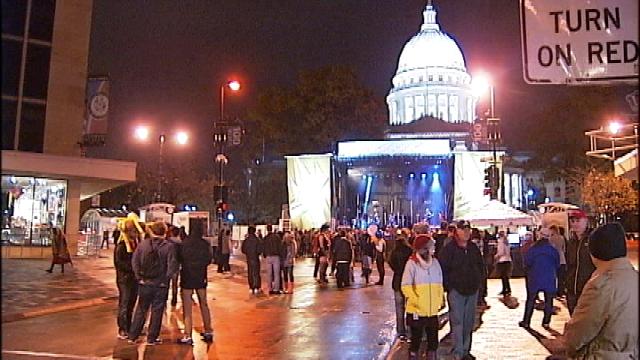 6.)  It'll be super "freaky":
While you may see a few people dressed up as axe murderers or regular guy Scott Walker himself, you won't really see anything actually scary go down. Arrests at the event have gone down drastically since the change in power, making this Mom's favorite UW event!
5.) I'll hook up with some super hot cat or pirate:
Halloween is literally a time where people can dress up to look like someone they're not. That sexy cop actually has a record of her own, that spooky witch didn't actually have to add any warts to her face, and you thought you were dancing with a guy dressed like Channing Tatum from 21 Jump Street until he took the sunglasses off and you realized it was Jonah Hill. Trust us, as Katy Perry warns, you can easily go to bed with a 10 and wake up with a 2, and people fall victim to this every year. Here's a tip: the ones in the funny costumes are usually the keepers.
4.) It's only $10, it's definitely worth it:
Buy a slice at Ian's instead and thank us later. You're paying $10 to stand in the cold and not drink? Hm. Sounds suspicious. 

3.) I'll be able to find a bathroom while there: 
Bring a toilet seat liner, because the only thing you'll have access to are the four port-a-potties they provide throughout the entire square. Most businesses along State St. and the square put up signs saying restrooms are for customers only… which you could be, but you spent your last $10 on a Freakfest ticket.
2.) I'll hear some really great, generally-loved music:
Okay, we don't like to bash other people's music taste, or up-and-comers, but the music festival used to provide a mix of both newbies and classic, well-loved oldies. If you're not a fan of a wide variety of tunes, or go in blindly, please prepare yourself to be let down. It'd be better to just play spooky Halloween sounds or the Monster Fuck but hey, that's just us. 
1.) I can get totally hammered without the risk of getting caught:
You may think you can sneak a water bottle of vodka in your sock, but you can't. You may think you can smuggle an entire handle of Fireball in your backpack, but you can't, and even if you do you'll end up like "our friend" Jarrett who got it pick-pocketed (backpacketed?) from him 20 yards past the gate. This is Madison Police Department's overtime extravaganza, and you will not get past their army. And even if you think they can't tell that you're a not-hammered teenager in a sea full of disguised people, trust us, they can.
But you know, still go if you wanna. What do we know? If anything partying for Halloween is better in a sanctioned outdoor, parent-supervised party than some dank frat basement surrounded by milky dudes dressed in bedsheets, right?