Boston College
A Boston College Guide to The Trash State of Iowa and Their Trash Football Team
Your Boston College Eagles are slated to play the Iowa Hawkeyes in tomorrow's Pinstripe Bowl, so we found it fitting to break down Iowa, a trash flyover state full of rednecks. BC is made up of 30% Long Islanders, 10% Californians, 59% people from Connecticut whose dads work on Wall Street, and roughly 1% other, so it's easy to assume we know nothing about them. Luckily, the legitimate journalists at the The Black Sheep poured over the figures, facts, and data in order to fairly compare the two competing universities.
Academics:
Both Boston College and the University of Iowa are each prestigious, with BC ranked #49 by Forbes and the University of Iowa was a close second at #176. Tough competition! It might explain the extremely creative choice for the University of Iowa to set up camp in "Iowa City."
But listen, the Pinstripe Bowl isn't a game of wits, it's a game of big farm boys banging heads, and rest assured those Iowa boys have some thick skulls. Thus, they might get the edge in this department. 
Mascots:
Your Boston College mascot is, of course, Baldwin the Eagle. The Bald Eagle is also the mascot of a little country known as the U.S. of A. — a sign of freedom, tenacity, and freedom. 
The University of Iowa's mascot is Hawkeye. After in-depth research (a single Google search that didn't go beyond the first page of results, come on, it's Iowa), it seems that the Hawkeye is in no way named for a bird. The team is actually named for a Native American friend of some 1830's newspaper publisher or something. Despite that relatively cool background, Iowa decided to take a big swing and a miss on "Herky the Hawkeye," who's a yellow bird gritting his teeth (?) as if he's taking a huge shit somewhere he shouldn't be: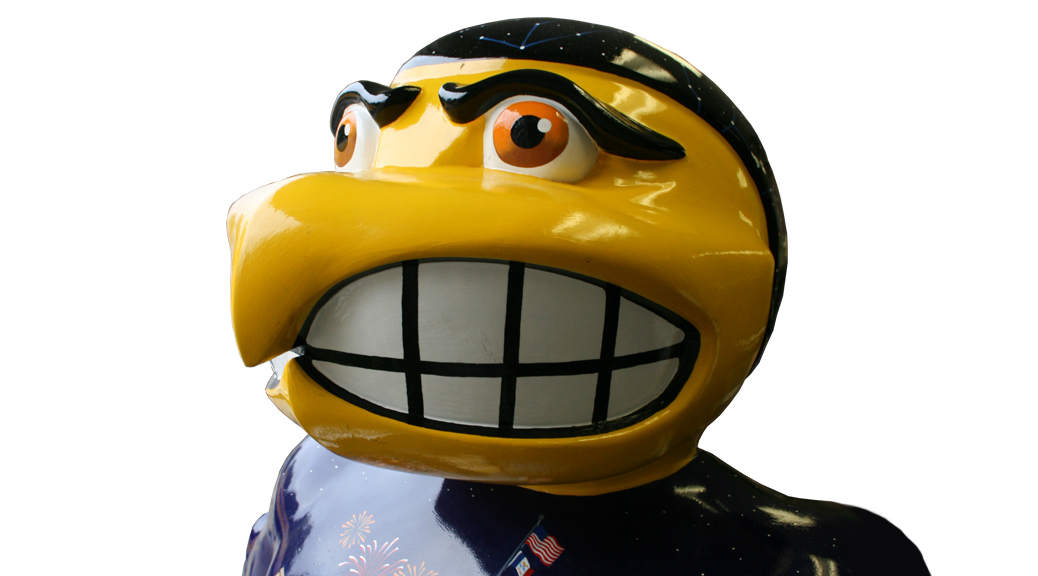 It essentially boils down to America v.s. a scared yellow bird shitting in a construction site he broke into.
Night-Life:
Access to any bar in the city of Boston, any concert in the city of Boston, any sporting event in the city of Boston, and literally anything else in one of the biggest cities in the United States. Boston is a short trip to the epicenter of the world's culture, not to mention TITS, a historic drinking past time founded by Ben Franklin himself. 
In Iowa, we can only presume they spend their weary hours drinking bottles of Everclear in someone's basement or, weather permitting, outside in a cornfield.
Notable Alumni:
BC: Doug Flutie, Amy Poehler, and John Kerry, to name a few.
Iowa: Ashton Kutcher, lol.
Campus
BC is full of beautiful stone lecture halls and libraries set in picturesque Chestnut Hill while being a short ride to the city of Boston. And just wait until the leaves change color!
The University of Iowa is in in Iowa City, Iowa. That's like, triple Iowa. Just saying that brings the infamous Iowa Fair "butter cow" to mind. 
Football record
Both teams come in at 7-5, Iowa with 7 wins because they play teams like Illinois and Indiana. Boston College with 5 losses because we play teams like Clemson and Virginia Tech. 
Head Football Coach
Steve Addazio is a real dude's guy, just the man. Look at that mustache, it exudes America and football, and excellence. Kirk Ferentz, sounds like a French name,  the name of a man who pees sitting down and is 6-8 in bowl games.
Gameday predictions: Win or lose we don't go to school in fucking Iowa, so no worries.
Whether you're busing out to NYC, watching it from your living room, or planning on getting completely trashed in the parking lot of the stadium – we conclude that BC truly is the winner. Long live the Eags.
Hey dummy, listen (AND SUBSCRIBE) to our podcast!