Clemson
8 Attempts of VT Kids Desperately Trying to Make Up for This Weekend's Ass Beating
This weekend Clemson visits Blacksburg, Virginia to play the Virginia Tech, uh, chickens (?). By now everyone knows ESPN College GameDay is going to be there, and like every other campus GameDay visits, the students of Virginia Tech have attempted to squeeze whatever ounce of creativity resides in their little engineering brains onto some posterboard. We're not mad, it's actually kind of cute to see their last gasp of relevancy before Kelly Bryant takes a big shit on Lane Stadium. We don't want to give them attention, but in case you needed some motivation to kick ass this weekend, let's have a look!
8.) A your mom joke:
Oh that's cute, a your mom joke! We all know all the penetrache' is going to be K-Boogie entering VT's endzone. Next.
7.) You can't throw shade at Dabo:
When was the last time VT had a coach that was an ounce the man Dabo is? That old flesh-beanbag Frank Beamer? 
6.) Hmmm:
So their ticket prices are low because they suck. Not sure they did the math on this one. 
5.) "Sweet short and to the point": 
Is that how engineers have sex now? A quick ass-eating and then you call it quits?
4.) Look, they're trying to spell!:
Get back into the Math Empo you fuckin' nerdy ass nerds. 
3.) Cool cool cool cool cool:
This is real classy, VT. Real classy. 
2.) The one where they make fun of themselves. 
VT recently spent $25,000 on an additional line to their old logo. Lol. 
1.) Oh one more jab at Dabo, good job guys:
Our rebuttal, sad Frank Beamer eating ice cream and thousand-yard-staring into the shithole abyss that is Virginia Tech: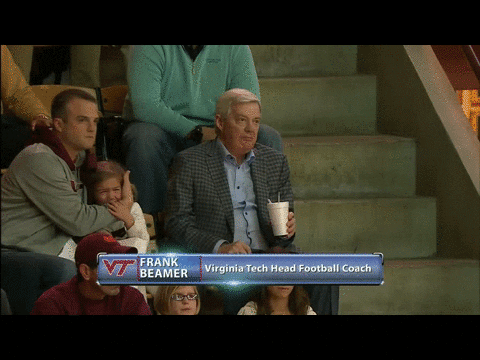 Road tripping to VT for the game? Listen to our podcast!