CU Boulder
Frozen Dead Guy Days 2016: A Photo Essay of Strange
Above the town of Nederland Colorado, inside of a small TUFF shed, a dead Norwegian man lies frozen in a block of dry ice. Inside this block of ice lies Bredo Morstol. Every year, people gather from around the country to celebrate Morstol's existence with frozen dead themed events, live bands, live artists, poets, hearse parades, ice turkey bowling, human foosball, comedians, beer, and cool dogs. Check out what The Black Sheep witnessed at one of the most unique, and awesomely fun mountain gatherings in perhaps, the world.
A Very Brief History:
After Aud Morstol's son was deported back to Norway, and her house in Nederland condemned (it wasn't on the grid), she turned to news outlets to save the frozen body of her father. An emergency town meeting was held to discuss what should be done with the frozen remains of this now famous Norwegian expat.
After discovering that there wasn't actually a law which forbade people to keep their cryogenically frozen relatives in a TUFF shed behind their house, they drafted such a law into place, but allowed Morstol's body to be grandfathered into staying.
Since then, Aud has also been deported back to Norway, and caretakers now look after his body. Psychics who have frequented the location of Morstol's body, say that he is enjoying the fuss that these festivals are bringing to the town.
Polar Plunge:
For the small price of $20, you too could have jumped into a tub of freezing cold, brown, tepid water. This event is usually held in the Nederland Reservoire, but there was no ice this year (thanks, global warming). This year, hundreds of people gathered around a small pool, to watch different contestants jump into freezing cold brown water, and see the panicked expressions of different people as they realized their 20-dollar mistake.
She became a butterfly!
Is this Short Circuit? 
Coffin Races:
Fueled no doubt by liquor, teams dressed in bizarre outfits raced through an obstacle course, carrying a coffin filled with one of their smallest friends. Those who win get to have their names frozen in glory alongside this festival for the rest of the dead guy's days.
Buncha' dick heads.
The say you shit your pants when you die…
Frozen Turkey Bowling:
People lined the main street of Nederland, to witness regular people trying to throw a frozen turkey like a bowling ball. Most of these people were incredibly inaccurate. Some barely made it to the end of the lane, while others tossed their turkey directly into the gate. More than a few small children, and one black sheep reporter were almost clobbered by this frozen ball of turkey.
This Cool Rasta Smoking A Large Doobie And Making Chainsaw Art: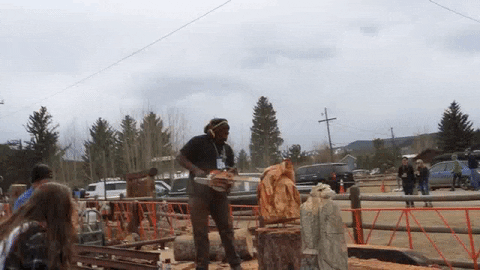 Does anything more really need to be said?
Uncategorized Pictures of People Enjoying The Organized Chaos That Is Frozen Dead Guy Days:
That moment when you finish tripping and are like "Wait, whose kid is this?"
When you think of your student loan debt.
A GHOST? WHERE?
Security guarding his stash.
Frozen dead bong.
Just a guy, walkin' back to Denver with his snack.