Sports
Duke Players Excited to Display NCAA Trophy for Show and Tell
After their exciting game yesterday, the Duke basketball team got on their little bus and went back home to Durham North Carolina. They were so excited for their Tuesday lectures on "which shapes are the best shapes" and "not looking at the sun."
This morning they all ran to their classroom where they sat crisscross applesauce and waited for the professor. After 20 minutes of playing duck-duck-goose, it was time for Show and Tell and the Duke players, their classmates, and professors all marveled at the shiny, new trophy. They stared at that big beautiful metal for close to three hours before they realized it was nap time, during which the team all huddled around it and took turns snuggling the trophy until it was lunch time.
"The boys brought the trophy in for Show and Tell and it was very impressive," their professor marveled. "They're showing much improvement from last week when they tried to say Tyus Jones's sneaker was their item, even though Tyus clearly wasn't wearing his shoe. The rest of class was very impressed, and Mrs. Helgren's class even stopped their snack time to come over and look at it!"
After lunch, the Duke players have an experimental psych course on "the theory of fitting shapes into their respective holes." Though it sounds simple, the work is groundbreaking and is said to have has a big hand in their success on Monday. This Friday the team will present their thesis and we'll be able to see if the players have been able to fit the square shape into the triangle hole. Represented by this diagram below.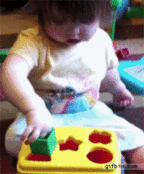 Grayson Allen says that for the next Show and Tell he's going to bring a basketball (even though the professor said he's done that too often) and Tyus Jones is going to try his shoe again. All in all, the Blue Devils said that "trophy day" was the best day of the year and that they can't wait for it to come around next year.