UC Santa Barbara
A Hungover Report Card For IV Restaurants on Their Proximity to Flavortown
You might not know it, but the legendary Guy Fieri is an honorary member of The Black Sheep. Usually when Guy comes to town we just grease up and wrestle, but this he joined our staff during our weekly brainstorm-benders, during which he drunkenly agreed to rating the Isla Vista restaurant scene in search of the holy grail of hangover cures. "A hangover cure," he said "that will finally relieve me of these douchey sunglasses." Here is his report for the greasiest, sauciest, most flavor-packed eateries in IV:
IV Deli:
Opens: 7 a.m.
Grease Factor: Consistently drips through two changes of bowling shirts.
Price: $7
Proximity to Flavortown: On the dime (bag)
Time: Took enough time to have a slight heart attack and then also write my will.
When I first rolled into IV Deli, I thought some punk-ass Gauchos had emailed me about eating at a munchies mart. Then I noticed the kitchen in a cage in the back. When I walked back there to assist, they screamed at me in Mariachi and pointed towards the register. I tried to order one of everything, but the girl behind the counter said "Did you mean crispy Buffalo Chicken Cheese Fries?" and since I don't have the confidence to talk to women, I said yes. Tore into it like a lion with a fresh kill until the sauce covered every inch of my writhing body. 10/10 would devour again.
Blaze Pizza:
Opens: 11 a.m.
Grease Factor: Not as greasy as my usual pizzas – 3/10
Price: I demand to build my own without paying an arm and a leg.
Proximity to Flavortown: General vicinity
Time: Long enough that I got to know the people behind the counter a little bit but short enough that I wish I could talk to them more.
Pro tip: pile on some veggies so the pizza cures your hangover and the greens make it look like you're eating a salad. This will reverse all of the unhealthy effects from last night, such as the sprained ankle you got from jumping off the roof and falling short of the pool. At the end of the line, the bathroom is perfectly situated for you to slip into and vomit out your regrets with complete privacy. The staff was just as hungover as I was, so it was no problem for them to drizzle ranch-and-buffalo sauce penises just to put a smile on my face.
Hana Kitchen:
Opens: 11 a.m.
Grease Factor: I tried to roll in a bowl and was disappointed that my shirt came out cleaner than before.
Price: Bitch, you expect me to pay this for fucking chicken, rice and broccoli?
Proximity to Flavortown: Locked and loaded
Time: I adopted a hamster; it lived and died in my arms before I even got my food
Staff wouldn't let me trace my ass on the wall in chalk, which was just plain unprofessional. After a quick glance at the menu, I knew the manliest option they had — I ordered a super-size beef bowl and while I waited, sneaked some of their appetizers from the back. However, after the food came out, I was disappointed by everything in this bowl. It was almost healthy. I only had to take two trips to the sidewalk to throw up, which in my defense probably only happened because the supersized beef bowl was no match for my supersized hangover.
Starbucks:
Opens: 4:30 a.m.
Grease Factor: WTF? Most of the shit here is liquid.
Price: Equal to 4 years' college tuition.
Proximity to Flavortown: Missed it by a country mile.
Time: Only heard 3 "Stacys" called before my name.
I tried to order a sandwich and the barista replied "Did you mean an iced mocha frappuccino with whip?" Standing around was rough because every girl had her hand on her mace instead of on a pen asking for my autograph. Although I heard lots of talk about this being their only meal for the day, we all know that they're going to guiltily indulge in some Buffalo Chicken Cheese Fries for dinner. Then I saw that they spelled my name "Fierry," and I instantly awarded them no stars. Also, their sandwich tasted like the ones I leave in the back of my car for days and am then forced to eat out of desperation on long drives.
Freebirds: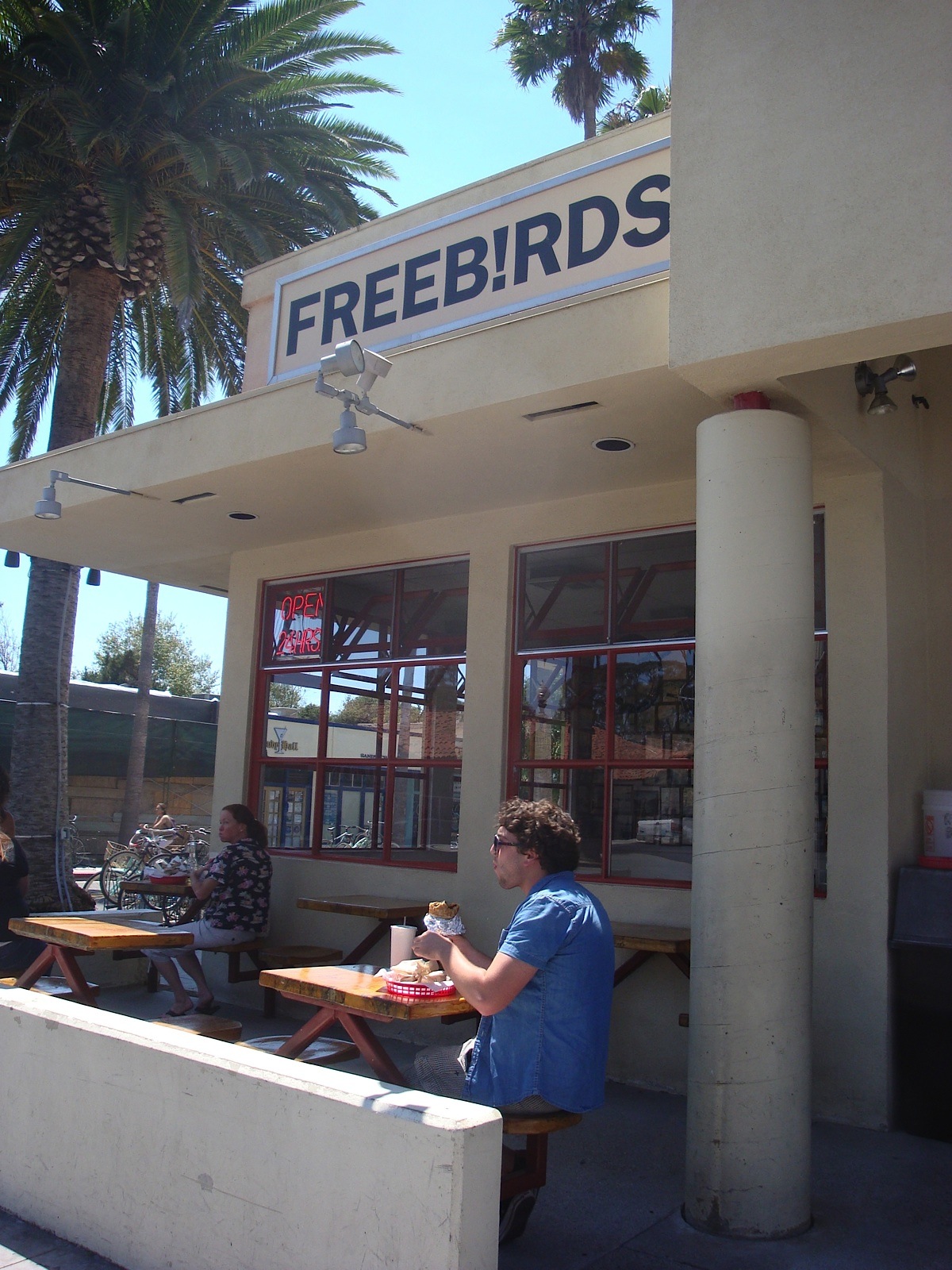 Opens: 11 a.m.
Grease Factor: Might as well have ordered soup to drench it in.
Price: Bitch, why did you do this to me?
Proximity to Flavortown: UNF
Time: Almost as quick as me in bed after you get past that crazy long line.
They handed me a burrito that also came with a birth certificate because it weighed more than I did when I was born. Once I bit into it, it fell all over me like a pinata filled with delicious shredded beef and salsa. My clothes looked like I had gone through a ball pit at Chuck E. Cheese's. 10/10. Would fuck again.
At press time, Fieri reported that despite the appalling lack of flame decals on any of these establishments, he will definitely return as soon as a fresh batch of bowling shirts arrives in time for his new season of Guy's Family Road Trips.
Oh hey, listen and subscribe to Talk of Shame: