UNC Charlotte
No Super Bowl Babies Coming Out of Charlotte This Year: A Super Bowl 50 Review
Last night, the football pride and joy of UNCC Kevin Olson and the 49ers Greg Olson and the Carolina Panthers played in the Super Bowl. And by "played" we mostly mean got chased around by Denver's defense and watched quietly from the sidelines as Peyton Manning took our trophy and kissed America's Prom King, Papa John. Just in case you live under a rock or drank until you forgot the pain that was all 8 hours of football last night, we've recapped what went down. 
First and Second Quarters: Panthers make a flying superman touchdown.
This was epic, we all have to admit that. When Jonathan Stewart jumped over those tacking men below him like Superman come down to save us and take a victory, even the nerds who were only there to watch the Captain America: Civil War trailers had hope that we would win. Sadly, our hopes were crushed by the incredible weight of Payton Manning's forehead. At least Stewart got to do the hand jive from Grease for his touchdown dance.
Half Time: Coldplay still sucks, Beyoncé's still the queen, and everyone was too busy puking to notice Bruno.
[fdxAds id=139877 container=fdx-container align=right]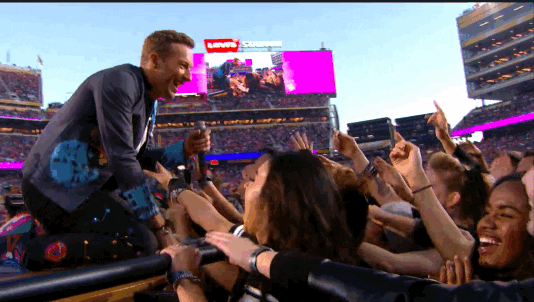 Seriously, it's the Super Bowl half time show not a convention for 70's lawn décor. Coldplay: making up for a lack of talent with equally talentless special effects. Also Chris Martin kept wanting to like, get touched by the fans, which made everyone more uncomfortable than the NFL wanting you to know your parents f*cked in their Super Bowl Babies commercials. Except the light up stage. The light up stage was dope. Beyoncé, however, was as fabulous as always. Now, we know some people are upset because she just did the Super Bowl a few years ago, but the woman can sing and dance at THE SAME TIME. She can do whatever the hell she wants, and we just have to let her.
Third and Fourth Quarters: Defense's spend another hour circle jerking it.
Von Miller strip sacks Cam Newton.

Cam fumbles.

Broncos recover in the end zone! #Touchdown!!#SB50 https://t.co/V6rHEfcTYu

— NFL (@NFL) February 8, 2016
Sometimes Panthers had the ball, sometimes Broncos had the ball. No one really moved until the Panthers damn near gave up and the Broncos got that last touchdown. It was anti-climax at its finest. Well, except for the circle jerking defense.
Our Boy Jerry Update:
This is literally everyone in class this morning. 
Honorable Mentions: Graham Gano
You had one job! You are a professional athlete! How do you miss a fucking field goal as a professional athlete? There are high school students who can do better than you. DISGRACEFUL.
Commercial Shout-Outs: 
Most of the commercials were telling us to copulate and reproduce, but then Mountain Dew's "Puppy Monkey Baby" kept haunting us with that line between adorable and horrifying.
Keep Pounding, Panthers! There's always next year!