Wisconsin
5 UW Icons Who'd Do Better as Wisconsin's Next Governor Than Scott Walker
Today's world seems to continually produce question mark after question mark surrounding any candidate that throws their name in the ring for political positions. No matter the party – Democratic, Republican, Independent, Green, Gold – it seems that all the candidates seem to produce more problems than solutions. Not to mention, Scott Walker's bitmoji makes us want to die.  But now that spring elections are over here in Wisconsin, it's time to focus on the next big thing: the race to the governor's mansion in November. And who better to potentially fill Walker's shoes than a fellow Badger, right? Here are the top five UW icons that could probably be more successful as Wisconsin's next governor than any politician ever.
5.) Barry Alvarez:
Perhaps the most obvious choice for political office is the legend himself, Barry. The man is consistent in doing two things: climbing the ranks of success and fucking winning. This man has been battle-tested time and time again, succeeding every time. His revitalization of the UW football team and continual running of the nation's most successful athletic departments proves that there ain't no mountain high enough for current AD. A measly campaign race would fail to stand in his way and would be as easy as replacing Gary Anderson. He would win the election before it started, and with his brilliant use of strategy and unmatched leadership, Wisconsin would be doing backflips over the other 49 states in no time.
4.) The Statue of Abe Lincoln:
Is nominating a statue of our Nation's 16th President for legitimate political office a little overkill? Yeah, absolutely, but keep in mind that Abe isn't just any statue, and he would open a lot of eyes with a bid for governor. For starters, the man's experience can't be matched. With over 100 years sitting atop Bascom Hill watching over Wisconsin's most political city, nobody else brings as much political insight and understanding to the table than Abe. Second, he'd be perfect on the campaign trail bringing nothing but joy and good vibes to the people of the public (not to mention he's magnificent with babies and posing for photographs). The only thing we'd have to worry about is literally getting him on the campaign trail. But whatever, he's got balls of steel.
3.) Joan Cusack:
Cusack's esteemed career and UW alumna status makes her a solid contender for political office in Wisconsin. She is the type of person that would be a strict, but fair, master. Just look at what she did at the helm of Horace Green Elementary School, making it one of the most prestigious schools in the nation while failing to let the antics of Dewey Finn hold her back. Her extensive work in handling a rogue teenage daughter and drunk junkies in Chicago's South Side also make her the ideal candidate to tackle the social and drug issues that face our state.
2.) JJ Watt:
The man is as pure as a pristine bottle of that fancy drinking water, VOSS, and would likely be the people's choice in the race. Watt would be a dual threat candidate bringing a great mix of compassion and straight up tenacity to his campaign. What you see is what you get with JJ, making it an election worry-free of email scandals or collusion with Russians. A refreshing change of pace for everyone. At the same time, you can be sure that he will get stuff done as any politician that stands opposite of Watt is surely to lose 10 times out of nine, making it impossible for them to pass both an opposing bill and concussion test.
1.) Becky Blank: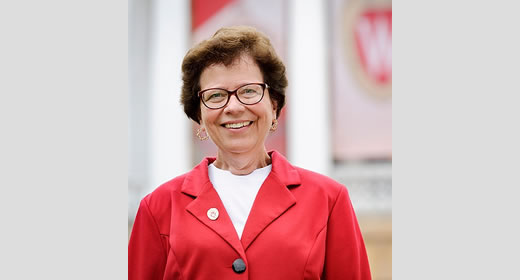 Chancellor Blank probably poses as the most realistic candidate to win the title of Wisconsin Governor. Not to say anyone wants to see her relinquish her role here at the University, but the day will come eventually, and it's safe to say that she'd make a pretty damn good Governor. She brings a resume that nearly makes her over-qualified for the position, as she really has yet to fail in anything she does. Her ability to manage a budget while at the same time handling the nation's number one party school, would make her a lock for a future election.
Political elections as we know it have been permanently changed. So if anyone can run for office these days, might as well ensure success and make it so that they are Badgers.
Know anyone at one of these schools? Refer a friend for a marketing job, get $100 if they're hired! 

CLICK HERE FOR MORE INFO ON OUR GUERILLA MARKETING PROGRAM!
EASY MONEY!